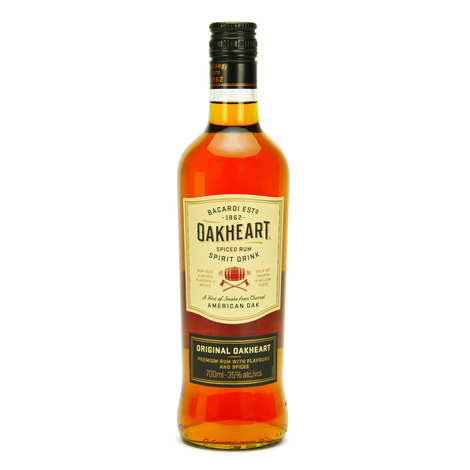 Actual product may differ from this image!
Bacardi Oak Heart Spiced Rum
---
| | |
| --- | --- |
| CATEGORY | Flavored Rum |
| REGION | Puerto Rico |
| ABV | 35.0% |
Product description
The smooth Bacardi Oakheart Spiced Spirit drink is a blend of the varieties Bacardi Superior and Bacardi Gold into which several interesting spices are mixed. The spiced drink is molasses based. Molasses is the thick brown and sticky by-product from sugar production. With its dark brown color and oily nature the delicious priced Rum attracts Rum lovers. Some of the spices include exotic cinnamon, festive nutmeg and creamy vanilla. In addition hints of zesty orange peel, sweet brown sugar, decadent honey and striking notes of tobacco can be found both on the nose and in the taste of the fantastic Bacardi Oakheart Spiced Spirit drink. The expertly crafted Bacardi Oakheart Spiced Spirit drink is matured in heavily charred oak barrels which gives the drink its unique smokey soft finish before being filtered through charcoal for clarity. Within a short time the spiced Rum has gained worldwide popularity among young and older epicures. The strong character and long finish of the robust Bacardi Oakheart Spiced Spirit drink is ideal to make special drinks like fruity cocktails, favorite long drinks as well as a perfect winter warmer.