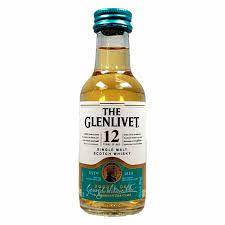 Actual product may differ from this image!
| | |
| --- | --- |
| CATEGORY | Scotch Whisky |
| REGION | Scotland |
| ABV | 40.0% |
Product description
Since 1824, The Glenlivet distillery in Sepyside, Scotland, has produced one of the most famous malts in the world – The Glenlivet 12 Year. This Speyside single malt Scotch whisky boasts a delicate balance of sweet summer fruits and spring flowers. You will also notice aromas of pineapple, pear, toasted cereal and honey, the latter of which shows up again on the finish. The Glenlivet distilled in pots that still use 100 percent malted barley. It is then aged in traditional European and bourbon-seasoned American oak casks to bring forth the delectable flavors. Despite being produced in Scotland, The Glenlivet is the bestselling malt whisky in the United States. It is also the second-best single malt in the world, so you know you're buying the good stuff! No other malt whisky has the legendary status enjoyed by The Glenlivet 12 Year. Its smooth character and tropical fruity notes make it a first-class malt, along with the mineral-rich spring water drawn from the distillery's historic well. So, what does "single malt" mean, anyway? Single malt whisky is simply a malted whisky that has been made from a single distillery. As for the malted part, the whisky is made using malted grains as opposed to unmalted ones. According to Scotch Whisky Regulations, single malt Scotch whisky must be made with malted barley, distilled in a single distillery using pot stills and aged for at least three years. The Glenlivet, being a 12-year Scotch, is aged for 12. It's also a Speyside single malt Scotch, which means that it's produced in the River Spey region in northeastern Scotland. The Glenlivet 12 Year is a vibrant gold hue with a summery nose. Since its palate is well balanced with forward tropical fruit notes, it's best enjoyed neat, on the rocks or with a little water added. At the finish, you'll savor a smooth creaminess with hints of fresh hazelnuts and marzipan. Pair The Glenlivet with seafood dishes, such as seared scallops, to bring out the best characteristics in both. Even if you've never tasted a malt whisky before, The Glenlivet will make anyone a fan. Buy The Glenlivet 12 Year online at a great price through Drizly and have it delivered directly to your door or pick it up in store.