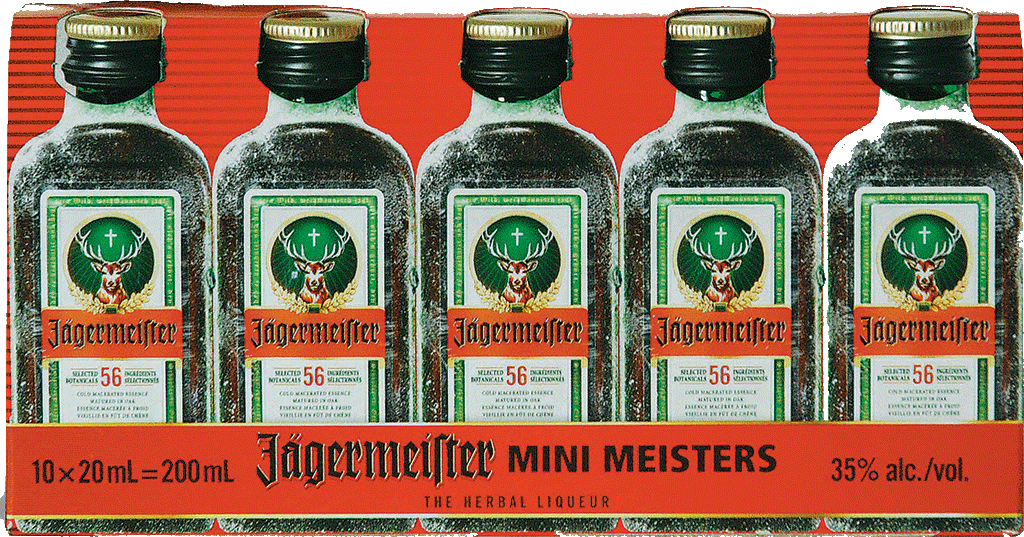 Actual product may differ from this image!
Jagermeister Mini Meisters
---
| | |
| --- | --- |
| CATEGORY | Herbal & Spice Liqueur |
| REGION | Germany |
| ABV | 35.0% |
Product description
Jägermeister Mini Meisters redefine ice cold shots. Mini Meisters are the perfekt single serve shot. Each mini is precisely packaged in 20ml glass bottles allowing the Jägermeister to chill to its optimal -18°C temp. 10 ICE COLD SHOTS TO GO.PRECISELY PACKAGEDFOR ANY OCCASION. Jägermeister is best served ice-cold. To pour the perfect shot, take the bottle straight out of the freezer. Pause for a second to marvel at the icy fog emanating from the glass. Enjoy the viscous liquid at its perfect state: -18° Celsius. CRACK. CLINK. DRINK. TAKE THE PARTY WITH YOU. At a tailgate, camping, BBQ, or home with friends- Jägermeister Mini Meisters allow you to bring the party with you.