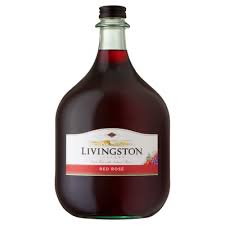 Actual product may differ from this image!
Livingston Cellars Red Rose'
---
| | |
| --- | --- |
| CATEGORY | Rosé wine |
| REGION | United States |
| ABV | 9.0% |
Product description
Darker and more brilliant in color than our Blush Chablis, our Livingston Cellars Red Rosé is distinguished by a greater range of fuller flavors. Its light body makes it easy to enjoy, but the lively, fruit-forward taste of this wine makes it hard to resist. Serving Suggestions: With its more robust flavors and fruit-forward style, Livingston Cellars Red Rosé goes very well with barbecued foods such as chicken or baby back ribs. In fact, this is a wine that doesn't play favorites when it comes to beef, chicken, or fish. Set beside our Red Rosé, grilled Mahi-Mahi can be just as tempting as a juicy porterhouse steak.